Seminar / Workshop Details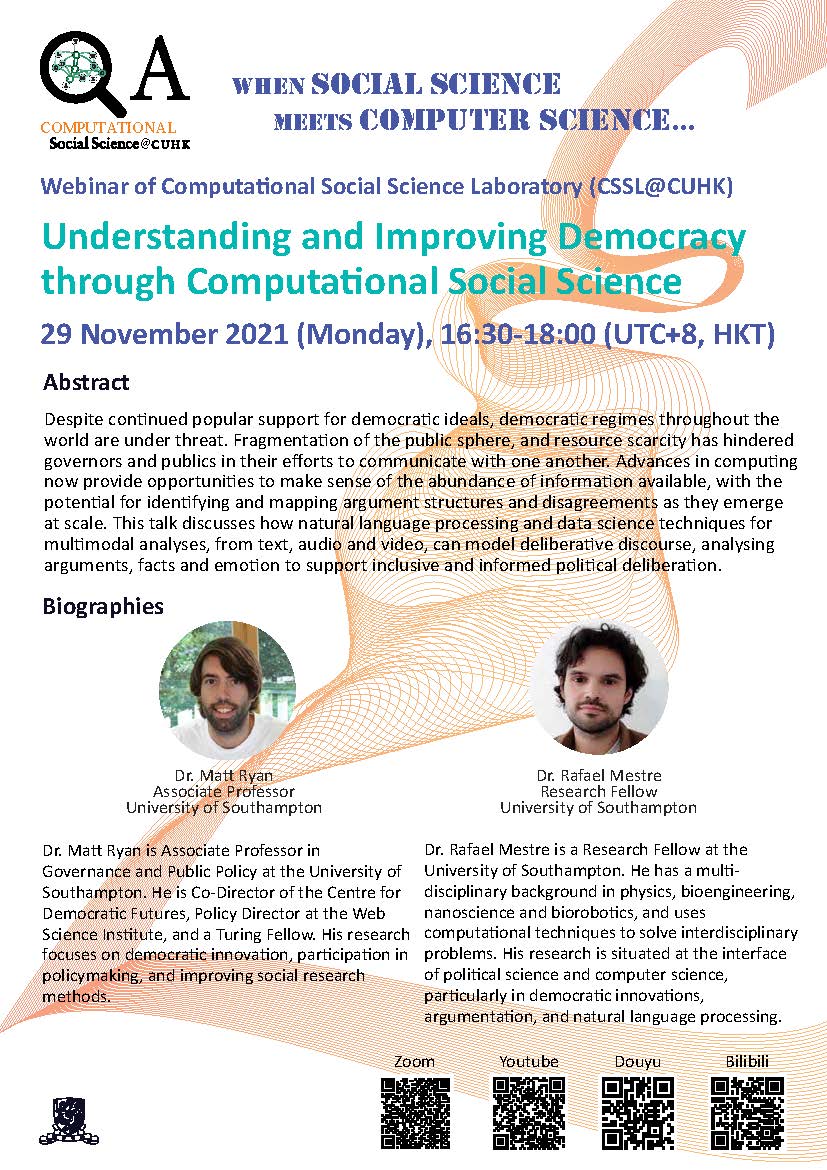 Computational of Social Science Laboratory (CSSL) Webinar "Understanding and Improving Democracy through Computational Social Science"
Speakers
Dr. Matt Ryan and Dr. Rafael Mestre, University of Southampton
Date
29 November 2021 (Monday)
Time
1630 - 18:00 pm
Venue
Zoom, Youtube, Douyu, Bilibili
Enquiries

sociology@cuhk.edu.hk
Details
Abstract
Despite continued popular support for democratic ideals, democratic regimes throughout the world are under threat. Fragmentation of the public sphere, and resource scarcity has hindered governors and publics in their efforts to communicate with one another. Advances in computing now provide opportunities to make sense of the abundance of information available, with the potential for identifying and mapping argument structures and disagreements as they emerge at scale. This talk discusses how natural language processing and data science techniques for multimodal analyses, from text, audio and video, can model deliberative discourse, analyzing arguments, facts and emotion to support inclusive and informed political deliberation.
Biographies
Dr. Matt Ryan is Associate Professor in Governance and Public Policy at the University of Southampton. He is Co-Director of the Centre for Democratic Futures, Policy Director at the Web Science Institute, and a Turing Fellow. His  research focuses on democratic innovation, participation in policymaking, and improving social research methods.
Dr. Rafael Mestre is a Research Fellow at the University of Southampton. He has a multi- disciplinary background in physics, bioengineering, nanoscience and biorobotics, and uses computational techniques to solve interdisciplinary problems. His research is situated at the interface of political science and computer science, particularly in democratic innovations, argumentation, and natural language processing.
More details