Seminar / Workshop Details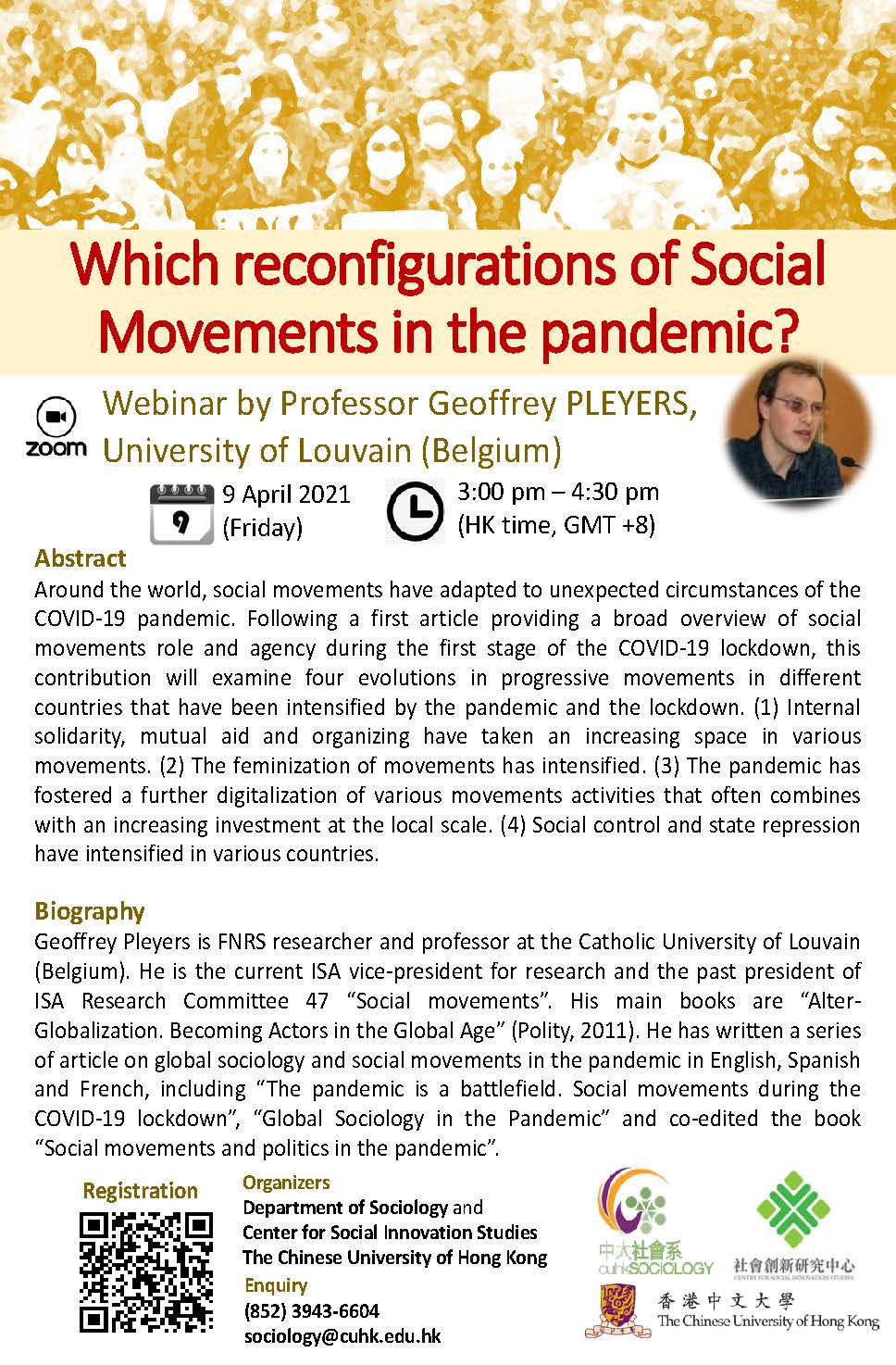 Which reconfigurations of Social Movements in the pandemic?
Speakers
Professor Geoffrey PLEYERS, University of Louvain (Belgium)
Date
09 April 2021 (Friday)
Time
1500 - 16:30 pm
Venue
Zoom
(ZOOM Link will be sent to registered audience after finished the e-registration.)
Enquiries
(852) 3943 6604
sociology@cuhk.edu.hk
Registration
https://cloud.itsc.cuhk.edu.hk/webform/view.php?id=12650050
Details
About the Webinar:
Around the world, social movements have adapted to unexpected circumstances of the COVID-19 pandemic. Following a first article providing a broad overview of social movements role and agency during the first stage of the COVID-19 lockdown, this contribution will examine four evolutions in progressive movements in different countries that have been intensified by the pandemic and the lockdown. (1) Internal solidarity, mutual aid and organizing have taken an increasing space in various movements. (2) The feminization of movements has intensified. (3) The pandemic has fostered a further digitalization of various movements activities that often combines with an increasing investment at the local scale. (4) Social control and state repression have intensified in various countries.
About the Speaker:
Geoffrey Pleyers is FNRS researcher and professor at the Catholic University of Louvain(Belgium). He is the current ISA vice-president for research and the past president of ISA Research Committee 47 "Social movements". His main books are "Alter-Globalization. Becoming Actors in the Global Age" (Polity, 2011). He has written a series of article on global sociology and social movements in the pandemic in English, Spanish and French, including "The pandemic is a battlefield. Social movements during the COVID-19 lockdown", "Global Sociology in the Pandemic" and co-edited the book "Social movements and politics in the pandemic".
More details