Seminar / Workshop Details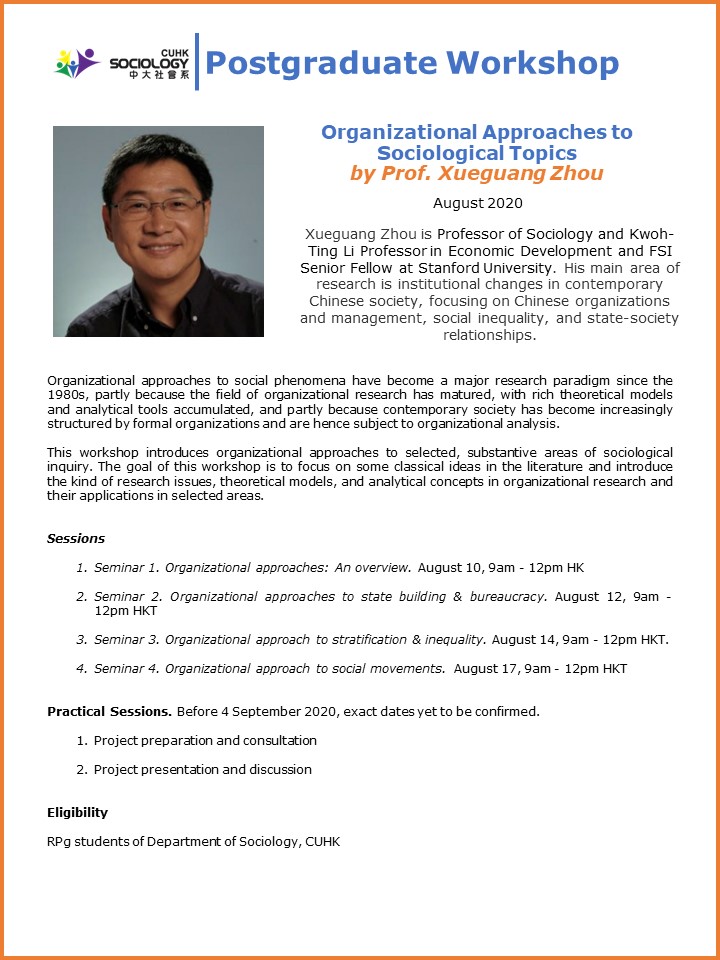 Postgraduate Workshop: Organizational Approaches to Sociological Topics
Speakers
Prof. Xueguang Zhou
Date
10 August 2020 (Monday)
Time
0900 - 12:00 pm
Details
Xueguang Zhou is Professor of Sociology and Kwoh-Ting Li Professor in Economic Development and FSI Senior Fellow at Stanford University. His main area of research is institutional changes in contemporary Chinese society, focusing on Chinese organizations and management, social inequality, and state-society relationships.
Organizational approaches to social phenomena have become a major research paradigm since the 1980s, partly because the field of organizational research has matured, with rich theoretical models and analytical tools accumulated, and partly because contemporary society has become increasingly structured by formal organizations and are hence subject to organizational analysis.
This workshop introduces organizational approaches to selected, substantive areas of sociological inquiry. The goal of this workshop is to focus on some classical ideas in the literature and introduce the kind of research issues, theoretical models, and analytical concepts in organizational research and their applications in selected areas.
Sessions
1.Seminar 1. Organizational approaches: An overview. August 10, 9am – 12pm HK
2.Seminar 2. Organizational approaches to state building & bureaucracy. August 12, 9am – 12pm HKT
3.Seminar 3. Organizational approach to stratification & inequality. August 14, 9am – 12pm HKT.
4.Seminar 4. Organizational approach to social movements.  August 17, 9am – 12pm HKT
Practical Sessions. Before 4 September 2020, exact dates yet to be confirmed.
1.Project preparation and consultation
2.Project presentation and discussion
Eligibility
RPg students of Department of Sociology, CUHK
More details